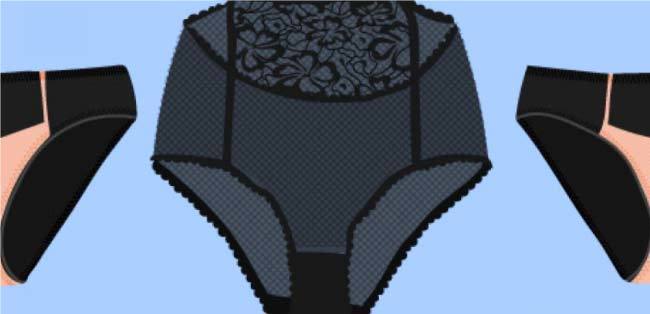 What Underwear to Wear Under a Sheer Dress? That's the multi-million dollar question. Find out what kinds of lingerie (or bra and panties) to wear in this women's guide.
Sheer dresses are sexy and can make you look ultra glam. In fact, sheer dresses can enhance your personality to make you look amazing. You can show your curves with sheer dresses. But, your choice of lingerie is important with sheer dresses. Read also: Sexy Red Dress for a Fun Night Out
Always choose an underwear or bra style that complements your sheer dress. You have so many options available today that you would be spoilt for choice.
What Underwear to Wear for Every Type of Sheer Dresses
What to wear under a White Net Sheer Dress
A flesh colored or white colored thong would be perfect for this dress. You can choose a style you love to pick according to your comfort. It will make you look subtle and classy at the same time. You can also choose from Italian thong collection available for sheer dresses.
What to wear under an Alexander Black Gown
With this gown, you can choose a high waist black panty style. It will perfectly complement the dress making you look amazing. You can also choose different colors with different Alexander gown styles. Flaunt your look like celebs and feel amazing. It's also high on comfort and it can make you look slim. So, flaunt your figure in style.
What underwear to wear with a Side Sheer Dress Design
If you love to wear side sheer designs, you can choose high waist shapewear or slip. Shapewear will give a definite shape to your body and also make you look amazing. You can also choose high-waist flesh skirt style for this dress. Take a cue from Jennifer Lopez, as she loves to flaunt side sheer gowns and dresses.
Best undergarment to wear under a Sheer Black Dress
If you like to keep it simple and classy, you can choose a granny panty style or simple black panty style. You don't need extra efforts to carry this look. You can complement your dress with a bralette to look good. A plain black underwear style is perfect for a sheer black dress. You can also choose this for your sheer black cocktail dress.
Open Front Sheer Gown
With revealing or sexy open gowns, you can choose to wear G-string style underwear. There are so many designs available in G-string styles. You can also choose a color according to a sheer dress. G-string style always complements bold sheer dress look. Choose a style that will make you look bold and sexy. Get ready to receive many compliments for your amazing sexy look.
Naked Style Sheer Dress
The trend of naked style sheer dress is fast catching up and most women are experimenting with the look. It's important to wear the right kind of underwear style for the naked sheer dress.
You can opt for a naked bodysuit for this dress style. It will not only look amazing but it will also provide total comfort. Choose a naked colored or body colored's bodysuit and wear it under your sheer dress. Look glamorous and win many hearts. Also, you can choose a size accordingly.
Choose the right kind of underwear style for your sheer dress. After all, it is all about flaunting in style.